President DeGioia on Professional Conduct
"Communities are built through the expression of shared values. At Georgetown, we value the inherent dignity of each person. We care for one another. We treat one another with respect and compassion. These values provide the foundation for our educational mission and our work together. Upholding them is our most fundamental responsibility as members of this community."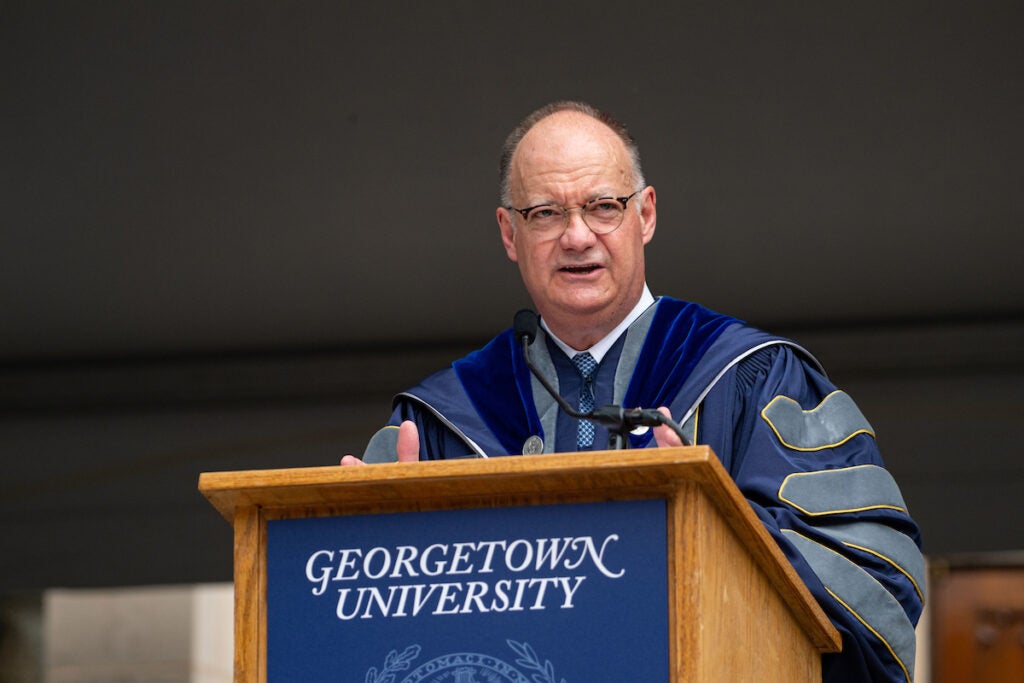 Find resources about policies that guide professional conduct, ways to address unprofessional conduct and trainings for building a culture of professionalism. This information is not intended to conflict with, violate or supersede the Georgetown University Faculty Handbook, the Department of Human Resources Policy Manual, Georgetown University Medical Center's Standards for Professional Behavior or the University's Policy on Speech and Expression.
---
Information and Resources:
Policies for Faculty, Staff & AAPS
University Ombuds

A university Ombudsperson is an independent, neutral third party who assists students, faculty, staff and/or administrators in resolving problems, concerns and complaints through informal means: counseling, negotiation and mediation.
What does professional behavior look like?
Examples of Professional Behavior
These include but are not limited to verbal and nonverbal behavior that is respectful, civil, reasonable and appropriate to a professional context, such as:
Engaging in clear, open and honest communication
Promoting equality and acceptance of people from diverse backgrounds
Promoting cooperation and participation, and sharing of ideas and information to enhance team success
Actively listening to the perspectives of others and seeking to resolve conflicts promptly
Offering constructive criticism in good faith to improve education, research, patient care, service or operations
Following applicable policies and procedures (e.g. Faculty Handbook and Human Resources policies)
Examples of Unprofessional Behavior
These include, but are not limited to, inappropriate and/or disruptive behavior, whether between peers or those with a power differential, such as:
Bullying behavior that adversely impacts an individual's or group of employees' ability to productively engage in work. Some examples include:

Belittling or berating statements, such as name calling
Aggressive, loud, abusive or intimidating statements
Intentionally degrading or demeaning comments (written or oral)
Deliberately withholding information required to perform work or excluding or isolating an employee from work-related activities, such as meetings.

Use of profanity or disrespectful language (written or oral)
Blatant failure to respond to or fulfill reasonable and professional work requests
Threatening language or gestures directed to anyone
Throwing objects or physical contact directed to another individual
Threats of violence or retribution (written or oral)
Frequently Asked Questions (FAQs)